Over the last few weeks, I have designed several covers, including two for POD books (which I put more time into than the weekly stories, honestly), and worked with an honest-to-goodness graphic designer in training (not my brother) on an ebook cover, which meant I had to explain ebook stuff.
Some thoughts:
Simple ebook cover design: Pick a picture that looks good in mini (Smashwords home page) format.  Put a very large title on it in a color that contrasts well.  Author name can be smaller; tag line can be smaller still.  Images from stock photo, fonts from Dafont, handle image with GIMP.
Things that go together should have the same cover design, more or less.
Personality counts.  It's better to capture the personality of a story than the literal truth.
More complex cover design: Find out where your book fits in the market, what covers of books like your book look like.  Consider borrowing an element or two from their covers, but don't be too copycat.  Consider borrowing elements from other books that aren't in your market exactly–but are in a related market.  Like copying some elements of an adult thiller cover in a YA thiller cover.  Copying some romance cover elements in a fantasy-romance cover.  Copying comic-book cover elements (ahem) in a middle-grade cover.
Sometimes the cover design for big-publisher books is no good.  So don't copy the covers that don't light you up.
That was the lesson from this morning.  I struggled and struggled and struggled with the cover for Exotics #1: The Floating Menagerie…AUGH!  I've been mentally building and rebuilding this cover since I put one together for Rachael, as a gift book, TWO YEARS AGO.
The two closest book-neighbors to this one are Animorphs and The Warriors series.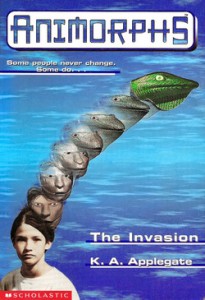 I have very carefully not read any of these books; the series is just too close to the premise of Exotics, and I don't want to pick anything up.  The main things this cover communicates to me are: part of a series (series title in big font), about a kid who changes into an animal.  This looks modern day and science-fictiony…but it's a very simple cover.  Background, foreground image, plain text layouts, done.  I go, "Which book is this in the series?" and "I don't know, but it's the one with the kid that changes into the lizard."  As an adult, I don't really find it appealing.  I'm not sure about kids–I mean, they read it, but there's probably a reason people put Harry Potter cover posters on their walls and not Animorphs.
Interestingly, if you look up later editions of the Animorphs covers, they start to look more like Warriors covers.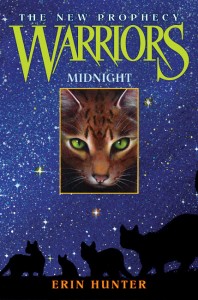 The Warriors series covers generally look more attractive and more well-designed: a picture of a cat in some kind of cutout window in the middle, and a scene in the background.  Again, the series title is prominent, and because there are sub-series, the subseries name is on the cover, too.  These are generally just pretty covers, but they can be kind of confusing at times, when the background picture is a fully-developed image instead of a silhouette image, as here.
What are these books about?  Cats.  Probably not science-fictiony cats, but other than that, we're not sure.  For example, with most of the Redwall covers, you go, "Okay, high fantasy with mice. Got it."
And which book is this in the series/sub-series?  In addition, what's the order of the sub-series?!?  ACK!  This bothers me and has actually prevented me from buying any of these books for my daughter, because I have no idea whether she's read it before or not.  Manga = number on the cover.  I like that.  I hate it when there's no shorthand for which book goes where, especially in multi-generational series where it's almost impossible not to have a story spoiled when you read the books out of order.
Okay.  So here's my test cover (third version this week).  It has its shortcomings; I'm no graphic designer.
This is a book about kids who can turn into animals, in exotic locations.  As a rough shorthand, I describe it as "Alias for kids."  Lots of betrayal, switching sides, and wheels within wheels.
What worked from the other covers:  both showed animals.  Both had their series titles in distinctive fonts.
What I didn't like about the other covers:  give me series order or give me death.
What worked from Animorphs:  You can tell which book it is by the cover.  This is the book where they're on the ship; the wolf is the first Exotic the main character meets.
What worked from Warriors:  The extra design elements give their covers more visual appeal and make it seem like the words inside will be well-written, maybe even a little philosophical.  (Silhouettes against a starry background:  pretty philosophical.)
Having the series title work is especially important, because I'm taking a big risk on the book titles by putting tough vocabulary words in each of them.  The series title is how I refer to the books, so other people probably will, too.
What I feel like I'm missing:
A sense of action.  I think that comes from using the wolf lying on the ground.  And, really, Raoul never really holds still…except when he's had the crap beat out of him by the bad guys.  So I think that particular wolf has to go.
What I disregarded:
Thriller covers.  Guh…I hate most thriller covers.  I keep going, "What is this book even about?  Is it even in a series?  Why is the title so completely freaking bland and nonindicative of what I'm reading? Do they want me to be confused?!?"  They might sell books, but I'm just not cut out for it.  I feel like the cover design is telling me, "Thrillers are interchangeable…except that you want to be loyal to the writer."  Because the writer's name is usually as big if not bigger than the title.  "What's important here is that you're reading a LEE CHILD book.  LEE CHILD.  Got that?  LEE CHILD."  Nothing against Lee Child; he's just showing up in searches.
Colors:
I'm not sure about the colors.  Logically, I feel like I need to use some bright blue on the cover (it shows up along with Raoul in later books), but I may have to be satisfied with the "alice blue" of the fonts.  This isn't a neon-colors kind of story, or even winter-colors (dark and rich but clear) kind of story.  Dramatic, serious at times, complex.  Probably darker colors, strong but shaded, are better.  I looked up Alias, and yes.  Those colors.  The season box set covers would make great ebooks, come to think of it.  I may darken the background darks just a hair.
Series:
I worked hard to find something that I could reproduce over five covers, by the way.  Animal in front, setting in back.