You can get it at these places, with more to come: Amazon, B&N, Kobo, Apple, Smashwords.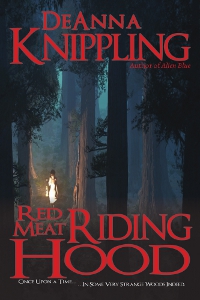 Red Meat Riding Hood
by DeAnna Knippling
Once upon a time…in some very strange woods indeed.
Once upon a time in a forest so far away as to be entirely unlike the forests that you get around here, a little girl realized that it was time to grow up and go out into the world, despite the best intentions of everyone around her.
And so she set off in search of Grandmother's house, for Grandmother was known as entirely strange sort of person who had left the path—all paths—behind.
She took a basket that looked like an egg and felt like an egg but was really the shellacked pages of books, from which the words had escaped or been elided, containing an umbrella that would keep off the rain of other people's dreams, and a persimmon that was a cure for all doubt, and set off from the words that anyone could know…
A surreal retelling of a young woman's journey through an unknown and unknowable forest.