Available at Smashwords, Barnes & Noble, and Amazon.com, more to come…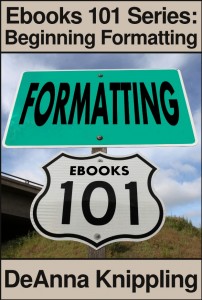 Ebooks 101: Beginning Formatting
by DeAnna Knippling
I put together an ebook based on the Formatting 101 class I taught for Pikes Peak Writers in February…adding screen shots, step-by-step instructions, templates, checklists, and more.  This is the formatting ebook you want if you want to know the simplest method for getting your book as widely distributed as possible, without paying someone an arm and a leg to do it for you.
So you're thinking about selling ebooks, but you don't know where to start. This ebook covers beginning formatting, including screen shots for Microsoft Word 2007 users (users of other programs will have to adapt the steps to their own word-processing program).

You do not need to know any XHTML or HTML coding to use these ebook formatting techniques. You do not need any conversion software.

You will learn:
• How to format .doc files to be uploaded to Amazon, Barnes & Noble, and Smashwords for distribution to Apple, Kobo, Sony, and more.
• Some typesetting tips to make your manuscript look more professional.
• Workarounds and troubleshooting for common issues.
• Pointers for more advanced formatting techniques.

I don't recommend this ebook for more advanced users, but for authors beginning to publish their ebooks independently. This process may appear complex, but it's set up so the worst of the complexities you will only have to deal with once (to set up a template).
Coming Soon:
Ebooks 101: Basic Cover Design
Having trouble coming up with attractive covers on your own…but hesitant to spend hundreds of dollars on a single ebook cover? Ebooks 101: Basic Cover Design will take you step-by-step through the cover design and layout process for two basic cover types using the simplest of all graphic design programs: Microsoft PowerPoint. This is not a book for advanced graphic designers, but for authors just beginning the independent publishing process.  Includes checklists, tips, and where to go for more advanced techniques later on.
Editing for Independent Writers and Publishers
The #1 complaint about independently-published books is that they aren't edited properly.  Learn to turn your book into a professional-looking product—help readers stop looking at your typos and start looking at your content. A freelance writer/copyeditor and former technical editor for the US Government explains the editing process, from developmental editing (before and during the writing process) through proofreading (the last step before you deliver the book). Includes checklists throughout.