Collections
Which contain tales only by yours truly…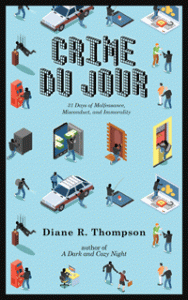 Crime du Jour: 31 Tales of Malfeasance, Misconduct, and Immorality
Kindle | Goodreads
A crime a day keeps the injustice away.
31 very short tales of crime and criminals, from Aggravated Assault to White-Collar Crime, for those days when you need to escape from law and order…
…and through the loopholes to the dark side of justice.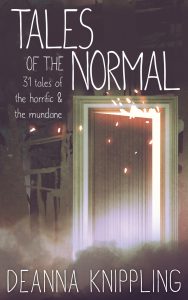 Tales of the Normal
Universal Sales Link | Goodreads
31 tales of normal things gone wrong. Everything from coffee to gift cards to having friends over. 31 innocuous, even delightful things that are supposed to be able to replace happiness, job satisfaction, and a sense of purpose. 31 atmospheric tales about good things gone wrong–horribly, weirdly wrong.
(Teens and up.)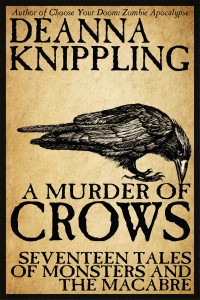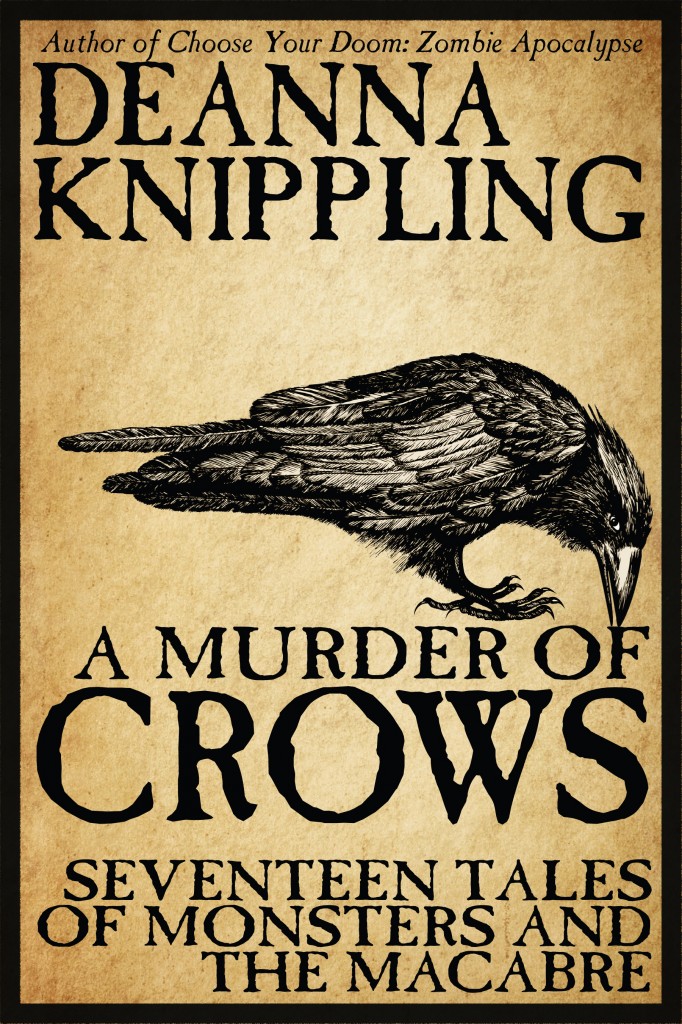 A Murder of Crows:  Seventeen Tales of Monsters & the Macabre
Universal Sales Link | Goodreads
A collection of seventeen short horror, ghost, and dark fantasy stories for adults, woven together by a flock of crows, telling stories to entertain a girl trying to survive a tragedy…
(For adults and older teens – horror & ghost stories – some gore, nudity, and salty language.)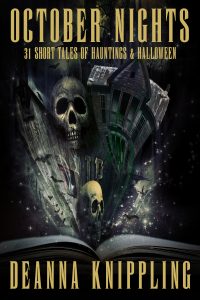 October Nights: 31 Short Tales of Hauntings & Halloween
Universal Sales Link | Goodreads
31 tales of haunted houses, black cats, mad science, and more. From the surreal to the gory, from black humor to dark dreamlands. Twilight Zone stories, dark fantasy stories, Black Mirror stories, and far-future dystopias.
(For teens and up.)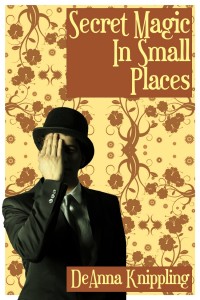 Secret Magic in Small Places
Universal Sales Link | Goodreads
Inside ordinary lives hides secret magic, the intuition you can't explain, the coincidence that can't be true.  Ten stories that capture that incredible moment before the wonder is hidden again.
(Short story collection – Adults – Contemporary fantasy – Some salty language)
Anthologies, Bundles,
and Magazine Issues
Which contain tales by yours truly & others…
Tenebrosities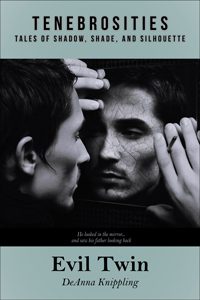 Tenebrosities Story #1: Evil Twin
Universal Sales Link | Goodreads
When Michael's father died, he left behind a grown-up family shattered by years of his abusive, alcoholic behavior, a legion of adoring fans who hung on every word of his stories…and a hungry ghost on the other side of the mirror.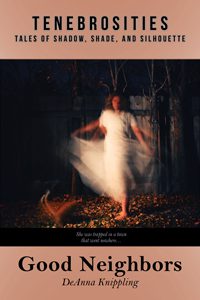 Tenebrosities Story #2: Good Neighbors
Universal Sales Link | Goodreads
One foggy night, Lee Warnick waits for her dad to come home from the factory. No one else will talk about it, but the fae have been abducting people. Haunted by nightmares and terrified for her family, Lee must find a way to keep the faeries from striking again…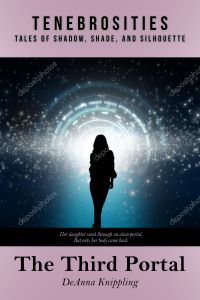 Tenebrosities #3: The Third Portal
Universal Sales Link | Goodreads
Dorey's mother sends her off to war. An interstellar war on the other side of the third alien portal to appear on earth: the first led to an ice planet, the second killed everyone who went through it, and nobody understands the third. Not even the stranger who returns when the aliens send Dorey's body back.
A Procession of Faeries & Other Blackbird Press Titles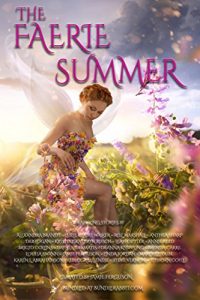 A Procession of Faeries #1: The Faerie Summer
Universal Sales Link | Goodreads
The summer sun bathes the earth in warmth and light, Faeries dance under the moon at night. Cross through the portal into a land ancient, beautiful, and wild. See the wonders that enticed the stolen child. Come away, O reader! To the Realm of Faerie.
But if you want to make it back home, you had better be wary… 20 tales of fae & folly!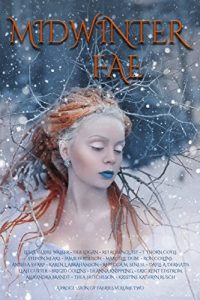 A Procession of Faeries #2: Midwinter Fae
Universal Sales Link | Goodreads
On the day of the shortened sun, a battle between two kings has begun. The old year dies, and the Oak King rules. We celebrate with logs of Yule! But the Holly King is defeated, not dead, to Caer Arianrhod he heads. Until Midsummer, when they battle again
And the Holly King will once again reign… 19 tales of faeries & magic at Midwinter.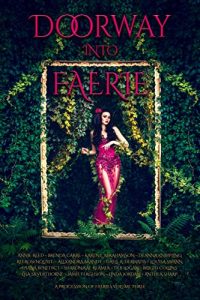 A Procession of Faeries #3: The Doorway Into Faerie
Universal Sales Link | Goodreads
If you catch a glimpse of the Faery Queen, consider whether you should remain unseen. If you come across a faery ring, listen to the wind laugh, and murmur and sing. But beware, for if you enter the world of the Fae, you may have no choice but to stay… 16 worlds of magic & enchantment.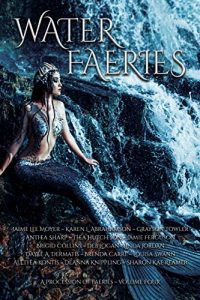 A Procession of Faeries #4: Water Faeries
Universal Sales Link | Goodreads
Fifteen stories about mermaids, kelpies, and other magical water creatures.  What if the Loch Ness monster is more than a myth? Where did the Lady of the Lake go after leaving Avalon?  Can a mermaid ever truly leave the sea, and follow her lover to land?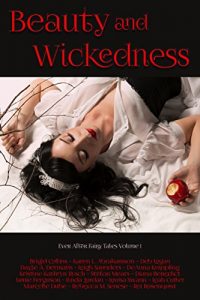 Ever After Fairy Tales #1: Beauty and Wickedness
Universal Sales Link | Goodreads
Dangerous spirits lurk in the woods. A bargain can bind a soul. Enchanted sleep can only be broken by true love's kiss…  You know these things are true…even in this modern world. Your heart still recognizes the power and mystery you can only find in a fairy tale. 16 retellings of classic fairy tales.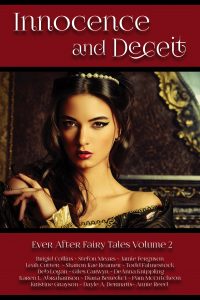 Ever After Fairy Tales #2: Innocence and Deceit
Universal Sales Link | Goodreads
Cinderella's not so innocent, but neither is Prince Charming.  Innocence and Deceit, the second volume in the Ever After Fairy Tales anthology series, contains fourteen fairy tales retold, reimagined, and reinvented.  Enter the magical, unpredictable, wonderful world of fairy tales!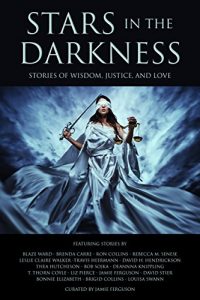 Stars in the Darkness
Universal Sales Link | Goodreads
A collection of stories about why being just matters. Tales from historical fiction to fantasy to alternate realities. Every tale, whether set in ancient Egypt, in a future where only the rich can afford to increase their children's intelligence through genetic engineering, or about a man turned into a zombie by accident, sends a message about what matters.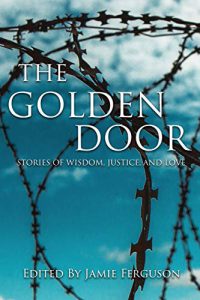 The Golden Door
Universal Sales Link | Goodreads
Tales of mistreatment of "the other" abound in historical or religious writings from around the world and through all time. But there are also plenty of examples of people helping each other, caring for one another, learning about each other. Sometimes in big ways, sometimes in small—but they all add up.
Uncollected Anthology
A quarterly urban fantasy anthology series, with a new theme every issue!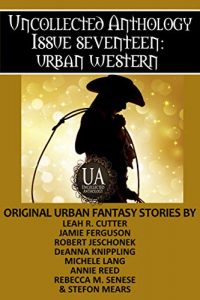 Uncollected Anthology: Urban Western
Universal Sales Link | Goodreads
Ride along with an elf cowboy, investigate a disappearance in the middle of nowhere, Wyoming, stalk the Badlands with an alpha wolf, head out on a coffee run, out-shoot an Outlaw, prepare for a duel with a side of witchcraft. 8 tales of the West that hides from plain view…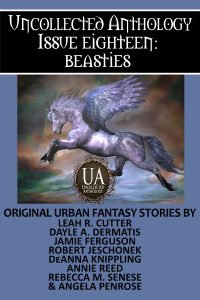 Uncollected Anthology: Beasties 
Universal Sales Link | Goodreads
All sorts of things make their way into a city. They come, they breed, they adapt. One day, you're looking at a raccoon breaking into a garbage can. The next day, you're not sure what you're looking at, but it has intelligent eyes, lizard scales, and tentacles. 8 stories of beasties big and small, the ones we can live with—and the ones we can't!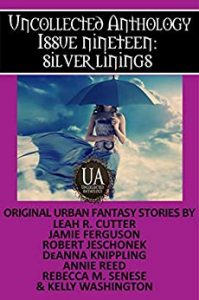 Uncollected Anthology: Silver Linings
Universal Sales Link | Goodreads
Discover how to negotiate with demons and survive a night on the street. Sniff out a pesky ghost or hunt down a creature at night. Attend a fairy ball, overcome inner darkness or speak with the wind.  7 stories about the one thing in the dark that pulls you onward: hope!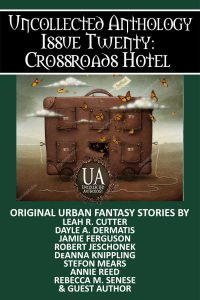 Uncollected Anthology: Crossroads Hotel
Universal Sales Link | Goodreads
Negotiate a convention of funeral directors and order a grilled cheese sandwich. Discover how walking upstairs can change your life or a watch can end it. Park your car out of the rain and unpack your suitcase. Just don't piss off the kitchen staff. 8 stories where fate controls the front desk!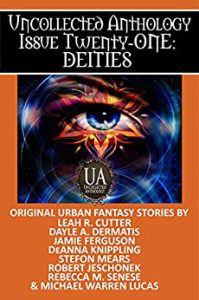 Uncollected Anthology: Deities
Universal Sales Link | Goodreads
Search for missing gods or do some job hunting. Leave the window open for a brother bird god and be sure to protect an artifact. Use your credit and sacrifice it all for your warrior self.
Explore the Uncollected Anthology with Deities!
Big Pulp Issues & Anthologies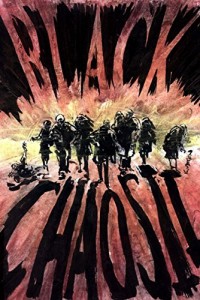 Black Chaos II:  More Tales of the Zombie
Universal Sales Link | Goodreads
25 MORE frightful – and frightfully funny – tales of the zombie, from the wilds of 19th century Canada to the farthest edge of the galaxy, and from college dorms to Wal-Mart.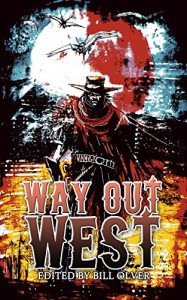 Way Out West
Universal Sales Link | Goodreads
Venture way, way out west in this collection of time-traveling, demon-possessing, horse-thieving, people-eating tales of the American frontier! Featuring SF and horror fiction.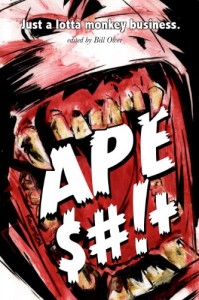 Apeshit 
Universal Sales Link | Goodreads
Giant apes, detective chimps, astronauts, and missing links collide. From a winged monkey who sets off to find adventure and follow his true nature, to a tale of apes who run the world. Along the way, monkeys meet presidents and write novels, support America's space program and help the disabled, go to war and fall in love.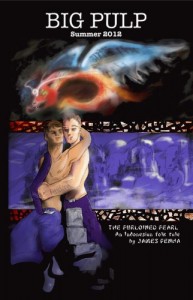 The Purloined Pearl
Universal Sales Link | Goodreads
A modern amalgam of the classic newsstand of the golden age of pulp and popular fiction. Includes "The Purloined Pearl," a new Indonesian folk tale by James Penha, in which a young fisherman steals a dragon's pearl for his lover, unaware of the toll their avarice will take on all they hold dear.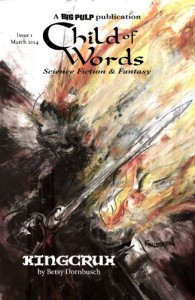 Child of Words
Universal Sales Link | Goodreads
Big Pulp is a mix of fantasy and science fiction.  This issue featuring "Kingcrux" by Betsy Dornbush.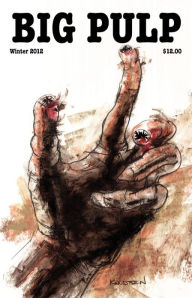 Lot's Crawlers
Universal Sales Link | Goodreads
Featuring "Lot's Crawlers" by Joel V. Kela, in which a string of grisly murders and missing persons cases puts a young police officer at risk of becoming food for worms. 
Miscellaneous Anthologies & Issues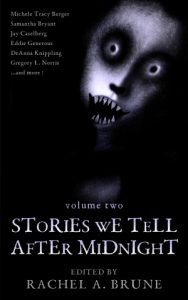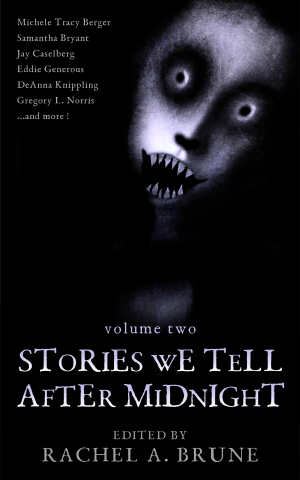 Stories We Tell After Midnight
Universal Sales Link | Goodreads
Revenge, hunger, and horror—all after midnight. 24 tales edited by Rachel Brune. Includes my short story, "The Thing These Relationships Have in Common Is You."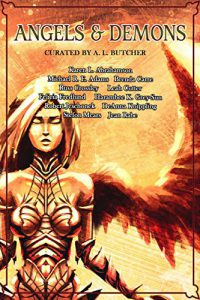 Angels & Demons
Universal Sales Link | Goodreads
Angels and Demons–the ultimate custodians of good and evil do battle in the heavens and on Earth and bring in their mortal allies. Mortals and immortals alike risk life, limb and wing and soul for victory. Contains my early weird Western novel, Chance Damnation.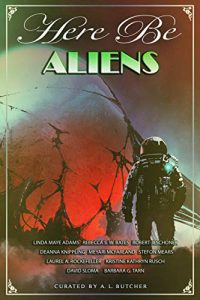 Here Be Aliens
Universal Sales Link | Goodreads
They come from distant stars and worlds beyond our own. Strange, dangerous, fascinating – dare you face the aliens? Dare you learn their secrets?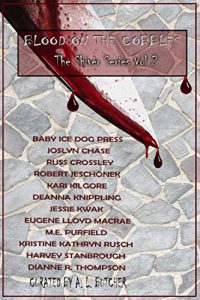 Blood on the Cobbles 
(The Shivers Series Book 2)
Universal Sales Link | Goodreads
From legends of murder, and undead killers walking, to missing girls, deadly diseases, suspense and gore aplenty; from sleuths and detectives, murder and vengeance enter into a world of crime, clues and mayhem.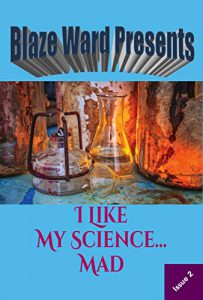 I Like My Science…MAD
(Blaze Ward Presents Book 2)
Universal Sales Link | Goodreads
Come with us on a twisted journey of science gone wrong and gods rising to threaten us all. Of private detectives on the moon and dieselpunk ladies saving the day. Academics making dark pacts and taking vengeance into their own hands. Mad.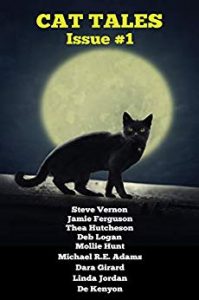 Cat Tales Issue #1
Universal Sales Link | Goodreads
No matter where you go, no matter what you do, some cat, somewhere, is always watching you!  Nine tales of cat magic, suitable for reading in front of clever, adorable, and even irascible cats.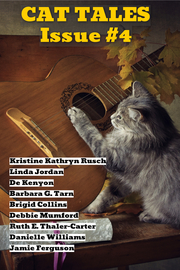 Cat Tales Issue #4
Universal Sales Link | Goodreads
Nine of the wildest and weirdest cat stories that you have ever come across. Fantasy, mystery and true-to-life tales of cat wonder. You will laugh, you will cry, and your cat will wonder if it is time to put you down and call you breakfast.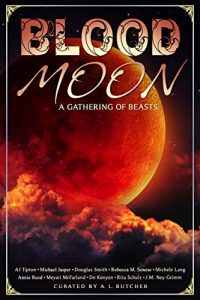 Blood Moon: A Gathering of Beasts
Universal Sales Link | Goodreads
When the sun has set, when the moon is full, the shapeshifters gather—wolves, cats and totemic creatures, nightmares and revelations.  Seeking answers, seeking revenge, seeking a cure to affliction, seeking blood, seeking answers or seeking love—a gathering of beasts abounds. Dare you walk beneath the moonlight?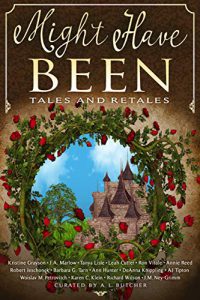 Might Have Been
Universal Sales Link | Goodreads
From retellings of classic fairy tales to legends and lore told around the hearth, this collection presents stories of wonder and fantasy—some straight up and others with a twist.
Children's tales from Serbia and Russia feature water spirits and household sprites, knight princes and giants, whirlwinds and the Golden Horde.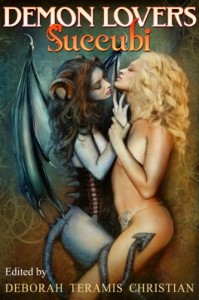 Demon Lovers:  Succubi
Universal Sales Link | Goodreads
Welcome to the world of the succubus. She visits your dreams, or she visits your bed. She is sex incarnate: hot, irresistible, and oh so willing. Willing to seduce you, or to destroy you—whatever feeds her needs of the moment.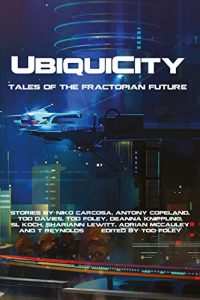 Ubiquicity: Tales of the Fractopian Future
Universal Sales Link | Goodreads
It is the dawn of the 22nd century, and in the sprawling development known as "UbiquiCity," the most wealthy and powerful districts possess all the latest in smart technology, with every building, device and control system connected via the Internet Of Things.  This is not always a good thing.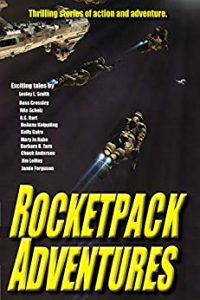 Rocketpack Adventures
Universal Sales Link | Goodreads
10 thrilling tales of action and adventure with humans and non-humans donning rocket and jetpacks to take on the future, the past, and alternate universes to defeat evil in all its forms.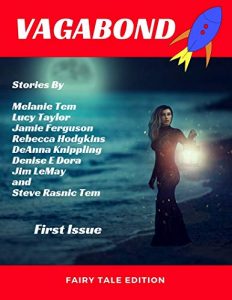 Vagabond: Fairy Tale Edition
Universal Sales Link | Goodreads
Fairy Tales are in our DNA. We think we know them. Read along to explore the familiar, the unique, and the undiscovered – reimagination of the Fairy Tale. 8 authors explore what these words mean to them in stories ranging from the silly to the sublime.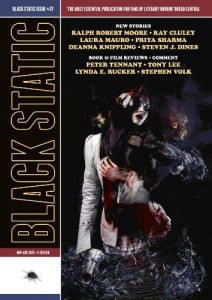 Black Static #37
Universal Sales Link | Goodreads
New horror and dark fantasy fiction by 2013 British Fantasy Award winner Ray Cluley, along with Laura Mauro, Ralph Robert Moore, DeAnna Knippling, Priya Sharma, and Steven J. Dines.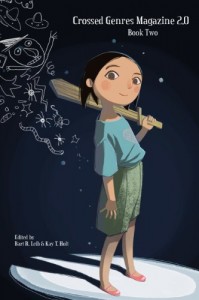 Crossed Genres Magazine 2.0 Book 2
(Out of Print) | Goodreads
Crossed Genres Magazine returns with the second collection of the first year! In this collection are issues 7 through 12.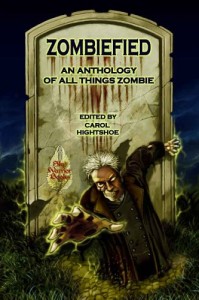 Zombified!  An Anthology of All Things Zombie

Universal Sales Link | Goodreads
Zombie crime fighters, politicians, soldiers, rescuers—but a Zombie prom date or bowler? Two dozen amazing zombie stories sure to breathe life back into the Undead. If you're looking for stories that shamble, groan, and eat brains, you're sure to become ZOMBIEFIED.