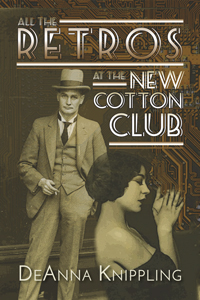 All the Retros at the New Cotton Club
Kindle | Nook | Kobo | iBooks | Goodreads (reviews)
Bernice had a good life with Bobby. She mighta been the second wife but to him she was number one. Then he died of cancer–something that not even the modern docs who could treat a ninety-year-old man to look like he was twenty-five again could cure.
Most of the money went to his kids. She'd get a house and enough to live really good on if she hosted an illegal copy of his A.I. for three years–his "ghost."
It was almost like having him back. They could go to underground clubs and hang out with the other A.I.s who were slumming it with the living. She could see him, talk to him, feel his touch–
And hide him from the people who were lookin' for him. And who mighta just found out where he was hidden…
(For teens and up.  Science fiction novelette with 1920s overtones.  Some violence.)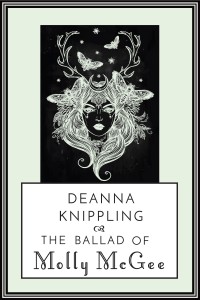 The Ballad of Molly McGee
Kindle | Nook | Kobo | iBooks | Goodreads (reviews)
Witches weave curses out of words; the less you use 'em, the more powerful they are. Blessings are weaker—but you can use them more often, wear them in like shoes.
Judith's red-headed granddaughter Molly, also a witch, curses her way through life, and now look at her—pregnant, a widow, and an adulteress with the spirit of a mountain to boot. Not that Judith can complain; it's only been time that's worn off her own rough edges. And what else is a grandmother to do, but love her grandbaby?
Now it's time for the baby to be born, to a powerful witch who can't be touched by painkillers, with a father who's being strip-mined by a company town, in a cabin at the top of the sky, and a midwife who's tired of the drama.
What else could possibly go wrong?
And of course there has to be a storm rolling in…