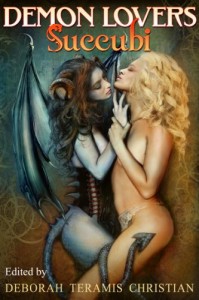 Demon Lovers:  Succubi – Edited by Deborah Teramis Christian
Kindle | Nook | Goodreads (reviews)
Welcome to the world of the succubus. She visits your dreams, or she visits your bed. She is sex incarnate: hot, irresistible, and oh so willing. Willing to seduce you, or to destroy you—whatever feeds her needs of the moment. 

Join us in this collection of tales about succubi and their encounters with human lovers. Thirteen authors share their vision of the succubus, the legendary creature who feeds on sexual vitality and energy from her victims. Must an encounter with a succubus always be deadly? No—but it is always memorable, for the person she takes into her embrace has something she wants and cannot live without. 

Revenge, redemption, loss, lust, desire and love are some of the places these stories will take readers as each succubus reveals a facet of her unique existence.

Genre readers of paranormal romance, urban fantasy, fantasy and science fiction will find gems to delight in in this collection. Authors are a mix of new voices and established writers, including Mary Roberts Rinehart Award nominee Diana Pharaoh Francis, two-time Nebula Award nominee Jennifer Pelland, Deborah Teramis Christian, whose work has been considered for the Tiptree Award, and Laura Antoniou, whose Marketplace series has been lauded as setting the standard for contemporary SM erotic fiction.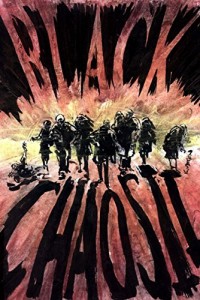 Black Chaos II:  More Tales of the Zombie – Big Pulp
Edited by Bill Olver
Kindle | Print | Nook | Kobo | iBooks | Goodreads (reviews)
Black Chaos comes again in 25 MORE frightful – and frightfully funny – tales of the zombie, from the wilds of 19th century Canada to the farthest edge of the galaxy, and from college dorms to Wal-Mart. You may think you know zombies, but not these! Featuring work by: Terry Alexander, Bo Balder, Aislinn Batstone, Steven E. Belanger, Thomas Canfield, Angel Luis Colón, D. Jason Cooper, Jim Cort, James Dorr, J. Boone Dryden, Sean Ealy, Gary Ives, W.P. Johnson, Brenda Kezar, DeAnna Knippling, Wayne Laufert, Jason S. Ridler, Anna Sykora, Gabriel Valjan, Deborah Walker, Ian Welke, R.A. Williamson, Dawn Wilson, Joriah Wood, and Nu Yang.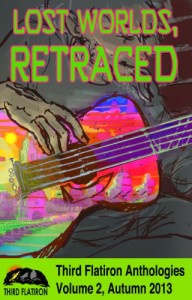 Lost Worlds, Retraced:  Third Flatiron Anthologies
Edited by Juliana Rew
Kindle | Nook | Kobo | iBooks | Goodreads (reviews)
Third Flatiron presents "Lost Worlds, Retraced," with over a dozen new SF/Fantasy/Horror short stories about lost worlds and parallel universes. If Discovery Channel shows like "Ancient Aliens" or "Man vs. Wild" are among your guilty pleasures, this could be the anthology for you. Our storytellers retrace the lost paths of an ancient sun-worshipping civilization, a doomed planet, a tribe of persecuted witches and robots, a cartoon world stalked by death, and an abrupt end to fossil fuel use. Meet a spy at the end of the universe, a Sons of Chaos motorcycle chick, a TV survival show host, and, of course, that icy rock we once knew as the planet Pluto. Contributors include Maureen Bowden, Ron Collins, Neil Davies, Judith Field, Bruce Golden, Sarah Hodgetts, DeAnna Knippling, Andrew Kozma, Marilyn K. Martin, Will Morton, Konstantine Paradias, Soham Saha, and Jonathan Shipley.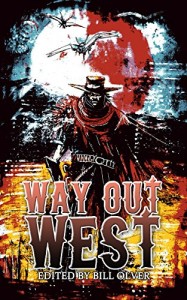 Way Out West – Big Pulp – Edited by Bill Olver
Kindle | Print | Nook | Kobo | Goodreads (reviews)
Venture way, way out west in this collection of time-traveling, demon-possessing, horse-thieving, people-eating tales of the American frontier! Featuring SF and horror fiction from Terry Alexander, Cecelia Chapman, Harri B. Cradoc, Milo James Fowler, Joshua Gage, Walter Giersbach, DeAnna Knippling, Gerri Leen, Mike Loniewski, Paul Lorello, John Medaille, John F.D. Taff, and Joriah Wood!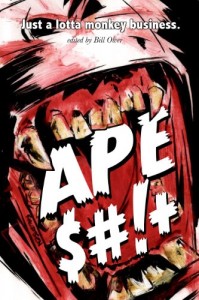 Apeshit – Big Pulp – Edited by Bill Olver
Kindle | Print | Kobo | Goodreads (reviews)
Giant apes, detective chimps, astronauts, and missing links collide in APESHIT, a new anthology from the publishers of Big Pulp magazine. This collection begins with the story of a winged monkey who sets off to find adventure and follow his true nature, and concludes with a tale of apes who run the world. Along the way, monkeys meet presidents and write novels, support America's space program and help the disabled, go to war and fall in love. This ape anthology is covered by a striking illustration by Ken Knudtsen-creator of "My Monkey's Name is Jennifer" (Slave Labor Graphics) and artist of "I Hate Zombies" (Terminal Press) and "Wolverine" (Marvel Comics). Authors featured in the anthology include: Terry Alexander, Mike Berger, Mike Bogart, David Briggs, Cecelia Chapman, Julie Mark Cohen, Caroline Cormack, Ronan Elliott, John Grey, Jimmy Grist, Christine Hamm, Sarah Hilary, DeAnna Knippling, Viktor Kowalski, Rebecca McFarland Kyle, Pete McArdle, Kristin McHenry, Jessica McHugh, Bernie Mojzes, Lon Prater, Frank Roger, James F.W. Rowe, Carrie Ryman, Henry Sane, Timothy Sayell, Frank Sjodin, Beth Ann Spencer, Michael D. Turner, Ian Welke, and Cheryl Elaine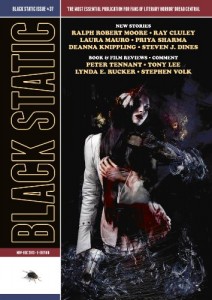 Black Static #37 – Edited by Andy Cox
Kindle | Nook | Kobo | iBooks | Goodreads (reviews)
The November–December issue contains new horror and dark fantasy fiction by 2013 British Fantasy Award winner Ray Cluley, along with Laura Mauro, Ralph Robert Moore, DeAnna Knippling, Priya Sharma, and Steven J. Dines. The cover art is by George Cotronis, and interior illustrations are by Richard Sampson, George Cotronis, Richard Wagner, David Gentry, and Joachim Luetke. The usual features are present: Coffinmaker's Blues by Stephen Volk and Blood Pudding by Lynda E. Rucker (comment); Blood Spectrum by Tony Lee (DVD/Blu-ray reviews); Case Notes by Peter Tennant (book reviews).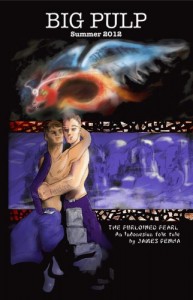 The Purploined Pearl – Big Pulp Summer 2012
Edited by Bill Olver
Kindle | Nook | Kobo | Goodreads (reviews)
A modern amalgam of the classic newsstand of the golden age of pulp and popular fiction, Big Pulp publishes exciting, challenging and thought-provoking fiction and poetry by the best emerging and established genre writers from around the world. This collection begins with "The Purloined Pearl," a new Indonesian folk tale by James Penha, in which a young fisherman steals a dragon's pearl for his lover, unaware of the toll their avarice will take on all they hold dear. 

This issue also includes the blackly humorous "There Was Something We Didn't See in the Dark," by Belgian writer Thomas Gunzig (translated by Edward Gauvin), in which a group of friends on their way to a party encounter a beautiful woman on a dark, deserted road, with disastrous results; and "Aunt Anika's Unicorn Horn," a whimsical mystery set in 17th century Amsterdam by Anna Sykora, an expatriate New Yorker currently residing in Germany. From the UK, this issue features "A Box Full of Midnight," a pulp thriller by Tony Haynes; "First Up," a science fiction romance by Aliya Whiteley; Ian D. Smith's whimsical "The Angelfish;" and "Jenny," a tale of lust and webcams by Andrew McLinden. 

This issue also features "Uvlechenie," a tale of Russian asteroid miners by DeAnna Knippling; "Mercer's Ghost," an eerie tale of old west vengeance, by Milo James Fowler; and "The Summer Mr. H Drove Alex Santillanas Around," a suburban crime story by Jen Conley. The rest of the issue is packed with more great fantasy, science fiction, mystery, horror and romance fiction by Beth Cato, David Cybulski, Shannon Schuren, John Davies, Libby Cudmore, Chanté McCoy, Jason Radak, Harri B. Cradoc, Jeffrey Caminsky, John Medaille, Adam Miller, and Wayne Scheer, and poetry by James F.W. Rowe, Joanna M. Weston, Bruce Golden, and Elizabeth Barrette.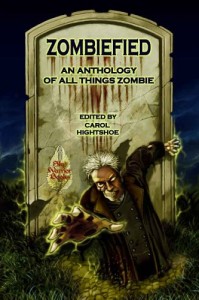 Zombified!  An Anthology of All Things Zombie
Edited by Carol Hightshoe
Kindle | Print | Nook | Kobo | iBooks | Goodreads (reviews)
Zombie crime fighters, politicians, soldiers, rescuers—but a Zombie prom date or bowler? If you're looking for Zombies, prepare to be ZOMBIEFIED! Two dozen amazing zombie stories sure to breathe life back into the Undead. If you're looking for stories that shamble, groan, and eat brains, you're sure to become ZOMBIEFIED. Stories by: Dayton Ward M.H Bonham Gary Jonas David Lee Summers Carol Hightshoe Laura Givens Rie Sheridan Rose Lou Antonelli John Lance And Many More!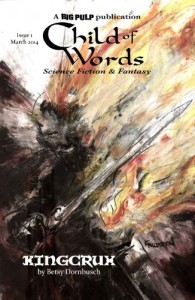 Child of Words – Big Pulp – Edited by Bill Olver
Kindle | Kobo | Goodreads (reviews)
Child of Words is the new SF&F magazine from Big Pulp. Published twice annually, each issue contains a mix of science fiction and fantasy fiction and poetry. 

This issue features: 
"Tavern of the First Village" by Michael Andre-Driussi
"Kingcrux" by Betsy Dornbusch
"Mad Dog Saves the Damn Day" by DeAnna Knippling
"Attila's Throne" by Fi Michell
"Spin Cycle" by Selina Rosen
"Let Us Use That For Which You Have No Use" by Stephen Ross
"Hard Rain" by Ian D. Smith
"Killing Time" by Bonnie Jo Stufflebeam
"Planting Robert" by John F.D. Taff

And poetry from Adele Gardner, WC Roberts, Neil Weston & Charles Leggett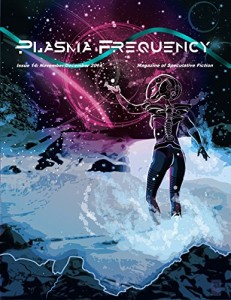 Plasma Frequency Magazine Issue 14 – Edited by Richard Flores IV
Plasma Frequency is a bi-monthly speculative fiction magazine based in the United States. With short stories from just a few hundred words to 7,000 words, our issues are packed with great content. In this issue we have 11 short stories of Science Fiction and Fantasy. Cover art: "First Snow" by Jon Orr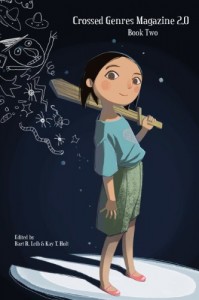 Crossed Genres Magazine 2.0 Book 2
Edited by Bart R. Leib & Kay T. Holt
Kindle | Print | Nook | Goodreads (reviews)
Crossed Genres Magazine returns with the second collection of the first year! In this collection are issues 7 through 12:

Expectations Touch Deadline Stranger Favors (Gifts With Consequences) Young Adult 18 stories and 6 Spotlight interviews complete the first year of the reborn Crossed Genres Magazine 2.0!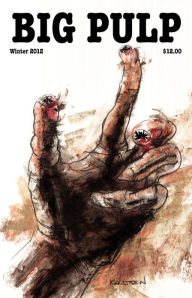 Big Pulp Winter 2012:  Lot's Crawlers
Edited by Bill Olver
Kindle | Print | Nook | Kobo | Goodreads (reviews)
A string of grisly murders and missing persons cases puts a young police officer at risk of becoming food for worms in "Lot's Crawlers" by Joel V. Kela, the featured story in the Winter 2012 issue of Big Pulp (cover art by Ken Knudtsen). This issue also features Michael Andre-Druissi's alternative history "Hitler's Hollywood", in which Rita Hayworth's career takes a strange turn and alters the course of WWII, and "Children of an Angry Sea", a horror tale set in the aftermath of a major Pacific tsunami, by Michael D. Turner. In all, this issue features more than 25 stories and poems, including work by Patricia La Barbera, David Birch, KJ Hannah Greenberg, L.B. Sedlacek, William Doreski, Gerri Leen, Terrie Leigh Relf, Brian Trent, Walter Giersbach, Emanuele Pettener, DeAnna Knippling, F.J. Bergmann, Sean McGrath, Benjamin Kensey, David C. Kopaska-Merkel, Holger Nahm, Catherine Boyle, Tony Haynes, and Frank Skolnik.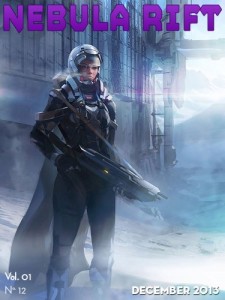 Nebula Rift Vol. 01 No. 12
Edited by Doug Lance
The Dream – James Potter
Pen Pal – Aric Blare
The Rebirth Of Humanity – T.S. Priyaa
The Playground – DeAnna Knippling
One Moon or Two – Leslie Silton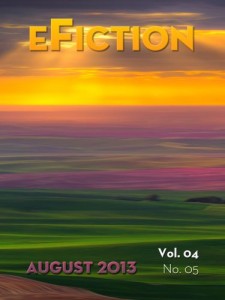 eFiction Vol. 04 No. 05
Edited by Doug Lance

Julian – Alex Bernstein
Fish Tank – Paul Malone
This Story is a Horse Galloping into Someone Else's Dreams – DeAnna Knippling
Washed Up – Chris Wilkensen
Single Malt – Dusty Wallace