I'm trying to look at books the way a librarian might, in order to help get me better at thinking from a reader's point of view. Here are the other posts in the series.
…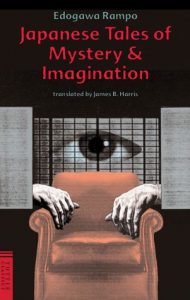 Japanese Tales of Mystery and Imagination by Edogawa Rampo is a collection of short stories set in Japan.  The stories are all written with hats off to Edgar Allen Poe (the author's name is a pseudonym based on his favorite writer) and his collection Tales of Mystery and Imagination.
To sum up: if a reader likes the grotesque horror and odd mysteries of Edgar Allen Poe, then they will probably like this collection, which is similar.
As an example, the story depicted on the cover above is "The Human Chair."  A writer sends a manuscript to his favorite (female) author in the form of a letter written directly to her, about an artisan who crafted wonderful chairs and who developed an obsession about becoming part of his own furniture…and so hid himself inside one of his chairs after it was sold to a hotel.  It gets weirder, stranger, and more grotesque from there, although certainly never obscene.
Each story is stranger and more inventive than the last.
I recommend this book for older teens and up.  Readers who enjoy Edgar Allen Poe, The Twilight Zone, or Alfred Hitchcock will find much to delight them here.
…
"What everyone wants to see," the crow said, "is someone getting eaten.  Preferably someone who deserves it."  17 tales of monsters & the macabre.